Rectangular 3+1: A Light and Cozy Container House
Rectangular 3+1: A Light and Cozy Container House Under Construction
Introducing our upcoming container house project, the "Rectangular 3+1." This innovative tiny house design features a rectangular shape, creating a spacious interior for comfortable living. With careful planning, new floorings, insulation for sound and temperature control, and a uniquely curved roof, this container house promises to be a perfect blend of affordability, lightweight, and ample living space.
Rectangular Design for Maximum Space:
The key feature of the "Rectangular 3+1" is its ingenious rectangular layout. By utilizing this design, we optimize the interior space, providing ample room for all your living needs. The open-concept layout creates a sense of freedom and functionality, allowing you to personalize your living areas to suit your lifestyle.
New Flooring for Easy Maintenance:
We understand the importance of a clean and tidy living space. That's why we have chosen new parket flooring, ensuring easy maintenance and a fresh, contemporary look. Say goodbye to hard-to-clean surfaces, and embrace the practicality of our new flooring solution.
Sound and Temperature Insulation for Comfort:
We prioritize your comfort, and to achieve that, we have installed top-quality sound and temperature insulation materials. Enjoy a peaceful and quiet environment inside, away from external noises. Additionally, stay cozy during colder months with efficient temperature control, making your tiny house an all-season retreat.

Uniquely Curved Roof for an Aesthetic Appeal:
The distinctive feature of the "Rectangular 3+1" is its roof, gently curved upwards, creating an eye-catching architectural element. Beyond its aesthetic appeal, the curved roof design also allows for rainwater drainage, ensuring the longevity of your tiny house.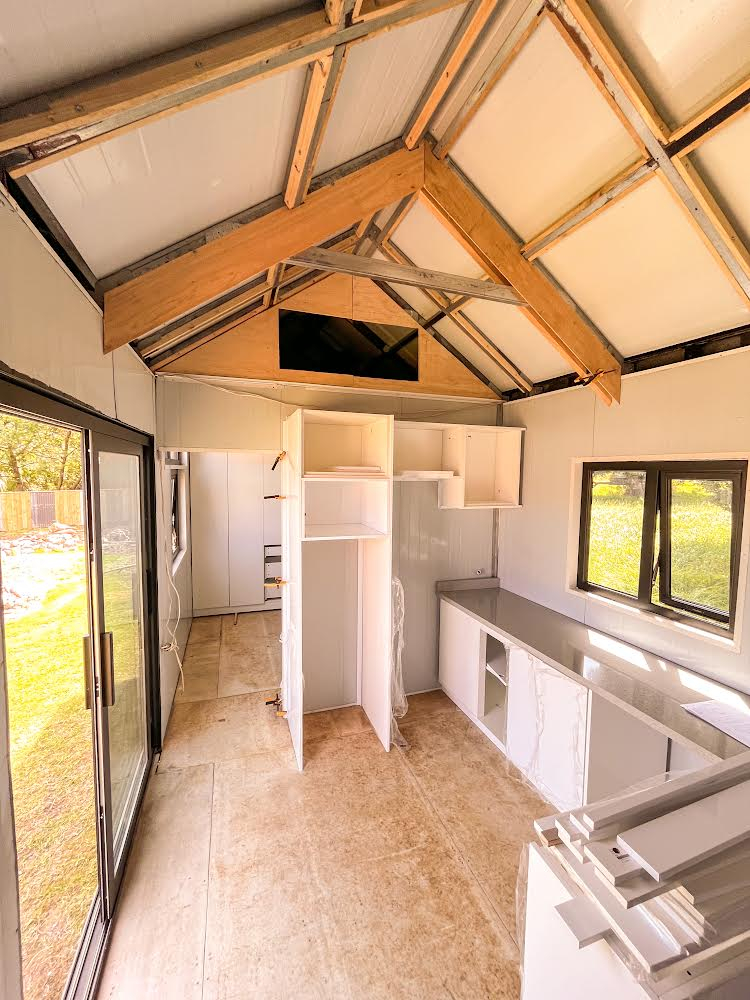 Affordable, Lightweight, and Spacious:
Our "Rectangular 3+1" container house is designed with budget-conscious individuals in mind. Its lightweight structure makes it easily transportable, while the spacious interior defies the traditional notion of tiny living. Experience a comfortable and affordable lifestyle without compromising on the quality of living space.
The "Rectangular 3+1" container house is an innovative, budget-friendly, and spacious solution for those seeking a cozy retreat. With its clever design, new parket flooring, sound and temperature insulation, and uniquely curved roof, this tiny house embodies the perfect harmony of practicality and aesthetics. Embrace the future of comfortable living in this remarkable container house.